7v7 Club Teams / Locations
The Legacy Football Organization organizes, manages and directs youth & High School 7 v 7 Clubs across the Country. Legacy 7 v 7 Club Coaching Staffs consists of former College & NFL players as well as current HS coaches. Each Club Staff includes a QB, WR, LB and DB Coach.
Michigan HS Statewide League 7v7 Schedules
Legacy High School 7v7 FAQ
Legacy High School 7v7  FAQ
What is the difference between flag and 7v7? 7v7 does not have flags, its touch football. The game of 7v7 is more schematic based around the game of football. A platform for players to develop and compete.
Where are tryouts? We have tryouts in every major city in the State of Michigan. Please go to the location most convenient for you.
How many players make the team? We keep 14– 18 players per team.
When are practices? Practices are the first 3 weekends of January on Saturday or Sunday. You only have 3 total practices I 1 per week
Where are practices? Hosted at the same facility you try out at in your local area
Where are games? Games are all hosted at Legacy Center Sports Complex in Brighton, MI.
When are games? 4 weekends of February on Sunday's. Teams will compete against other teams from across the State of MI in the Legacy 7v7 Statewide League.
Are there Travel Opportunities? Yes, players are invited to participate on Legacy 7v7 Travel Teams based on their play in the league. They will be evaluated over Jan. and Feb. and sent an invite for a travel team based on their performance.
What do the players get?

Adidas Uniform Package
Compensated I Qualified Coaching Staff
Educational, Leadership & Recruiting  Seminars
3 Practices I 12 Games

Whats the Cost? To be determined and will be relayed via email after tryouts.
Payment Plan I Fundraising I Scholarships I Financial Assistance Available
About Legacy 7v7
Each 7 v 7 Club hosts its own respective tryout. Each city will have 1 – 4 Clubs depending on the size of their home facility. Each Club will consist of 14 – 20 players.
Education:
Our programs include educational resources such as ACT/SAT Prep Classes, as well as seminars and workshops on College Planning, Organization Skills. Legacy 7v7 Clubs also educate and assist with the College Application Process.
Recruiting:
Our Recruiting 101 Seminar is included with each club. We also present Hudl Film "Do's & Dont's", How 2 Brand Yourself, and other important resources for Football College Exposure.
Parent Meeting:
All 7 v 7 Clubs will have a Mandatory Parent Meeting that will serve as an orientation.
Competition:
7 v 7 Club Teams will participate in the Legacy 7 v 7 Statewide League, the largest statewide league in the country. Each team will play 3 games in 25 minute blocks each weekend of competition.
Development:
7 v 7 Clubs will have 3 – 4 scheduled practices that last approximately 2 2 1/2 hours. Practices will include the following:
Chalk Talk
Dynamic Warm Up
Agility Training
Positional & Fundamental Training
Competitive One on Ones
Competitive Group Sessions
Offensive & Defensive Install
Competitive 7 v 7
7v7 & Lineman Travel Teams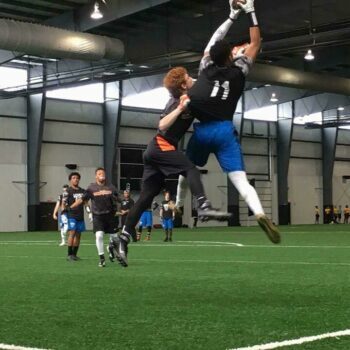 Adidas Select 7v7
Legacy is sponsored by Adidas and has been selected as 1 of 3 National Select 7 v 7 Teams in the Midwest to participate in the Adidas 7 v 7 National Championship in Flordia. This team will compete against the Nation's top 32 7v7 teams. Top players are selected through nominations, tryouts and/or participating for a Legacy 7 v 7 Club.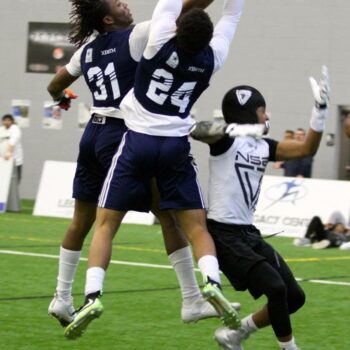 Adidas Select Linemen
Legacy is partnered with Jesse Sapolu's MITT Linemen Academy and Super Linemen National Tournament. These teams will travel to California for the Super Linemen National Tournament with over 400 of the Nation's top linemen. Top players are selected through nominations, showcases, and tryouts.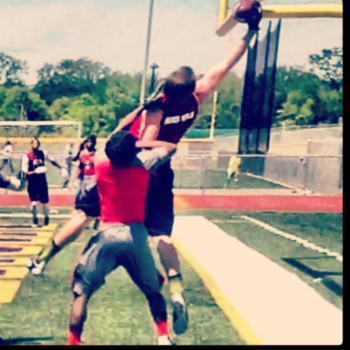 Travel Teams
Players are selected from evaluated performances during tryouts and/or 7 v 7 Statewide League Play. Travel teams will play in 3 national tournaments and make college visits once the Statewide League concludes.